I am a composer or improviser or musician or sound artist or programmer. Open forms, improvisation, indeterminacy and real-time processing often pop up in my work. I make music and sound for movies, theater, radioplays, modern dance and video games. I do 'guerilla style' media bicycle performances and organizes art bicycle expeditions - in which the environment is explored through performances.


I am currently listening to Coil, Deerhoof, Merzbow, Hildur Guðnadóttir and Sun Ra.


This site is under construction.


upcoming things

18_04_2018 - 06_06_2018
Artist in residency with Stijn Verhoeff at Kunsthuis SYB.

15_06_2018 - 24_06_2018 BEACON installation / performance at Oerol. 15_08_2018 - 15_10_2018
De toekomst ligt in zee [at] LÛD, Rijsterbos.



Link to soundcloud

Curriculum Vitae
supernoctural
A way a lone a lost a last a loved a long the is an audiovisual narration project in which passages from Finnegans Wake by James Joyce are performed through words, sounds and images. Above you can see a video registration of the very first performance we made. The project started as a collaboration between Joycean / artist Mariana Lanari and me, when we were invited by the American editor Derek Pyle to make a musical interpretation of the first and the last chapter of 'The Wake' for his Waywords and Meansigns project. After this experience, we decided to develop a performance and visual artist Katinka de Jonge joined our team. Down below you can listen to an audio rendition of the very first page of 'The Wake'.
moving sigils
Small excerpt from moving sigils performance at De Ruimte, Amsterdam on the 19th of October, 2017. Moving sigils is a project by digital artist / filmmaker Alexander Mangel and musician / composer Sjoerd Leijten, in which they develop an audiovisual feedback instrument. Images influencing sounds and vice versa. They are in the middle of the artistic and coding process. Next gig will be at In de Ruimte, Ghent, Belgium on saturday the 18th of november.

moving sigils is made possible by the Creative Industry Stimulation Fund.
BEACON
The aether is full of radiomagnetic waves. Wifi, mobile telephony, radio stations, yet also the electromagnetic waves of distant comets float through the air around us. BEACON is an installation performance in which the aether is scanned for all kinds of signals. The found signals are channeled into an ongoing cosmic composition. BEACON is a collaboration with technician / psychiatrist Olle Kruyt and is kindly supported by Creative Fund NL. More info can be found down here.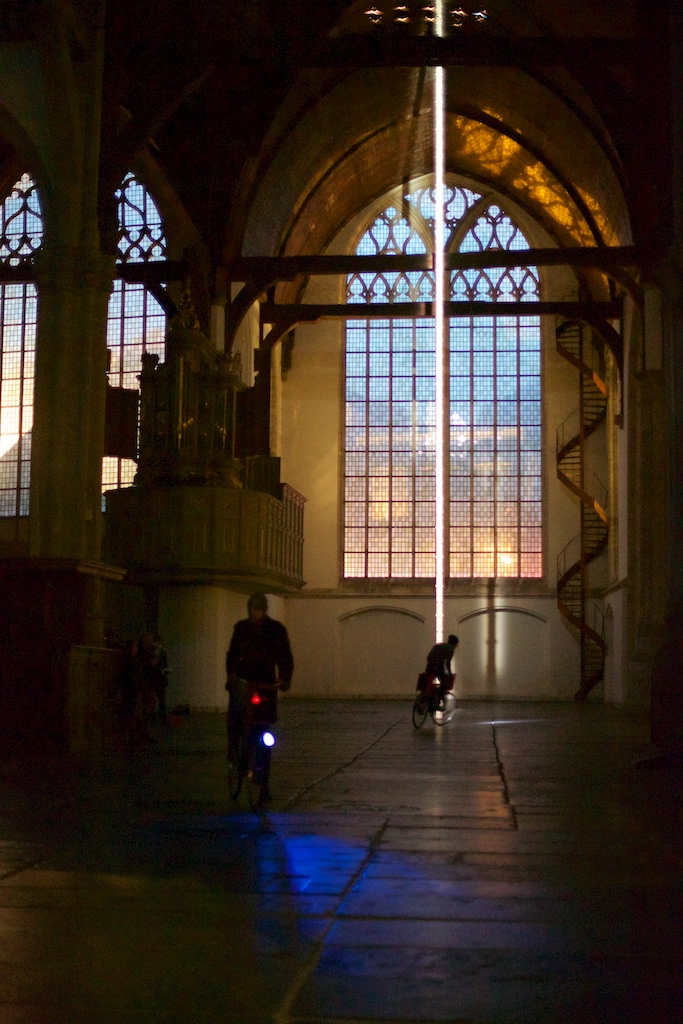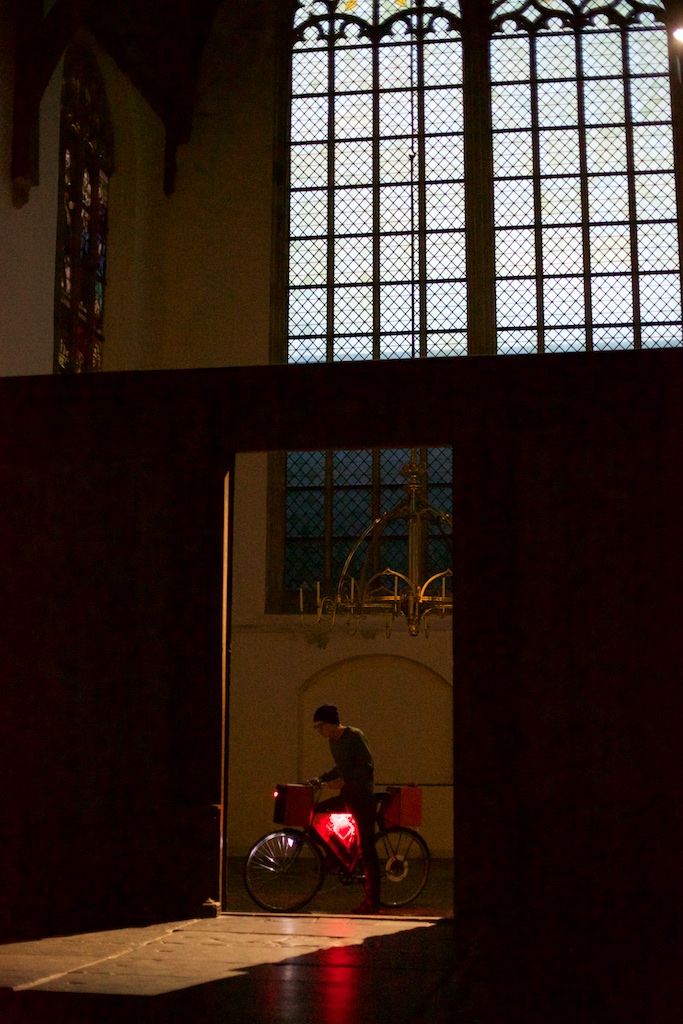 removing the entrance
Removing the Entrance is a piece for two sound bicycles, one FM transmitter, eight radios and church organ. The piece parasites on The Entrance by Robert Ashley and was presented as a spatial sound performance with bicycles carrying speakers, granular clouds of church organ samples coming from SuperCollider and the slowly changing organ drone from The Entrance coming from the organ. The performance took place inside the Old Church in Amsterdam - Amsterdam's oldest and biggest church. Listen down below to the recording.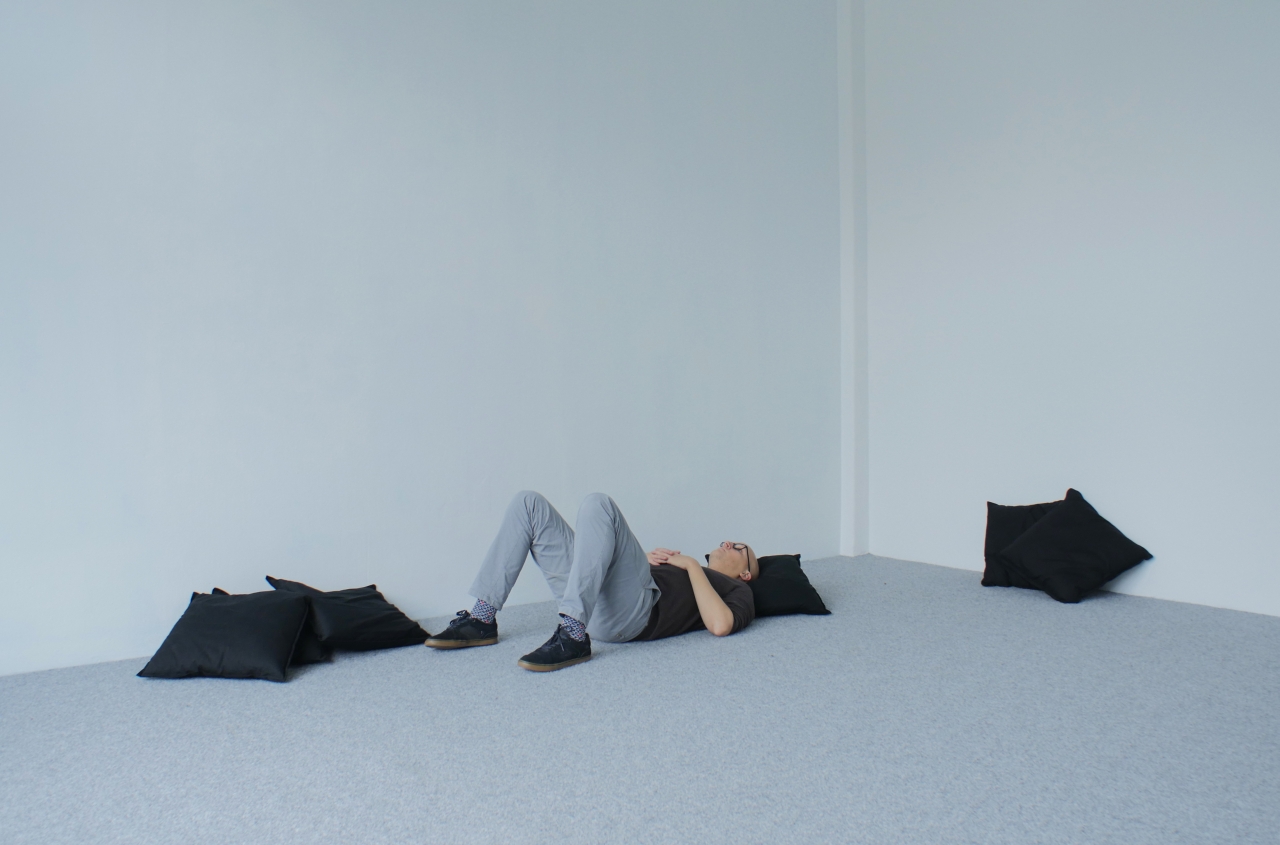 De toekomst ligt in zee
Invited by curator Vincent van Velsen artist and writer Stijn Verhoeff came up with the for the exhibition De toekomst ligt in zee [ the future lies in sea]. Starting point is a book in the making from Stijn. Sound artist Malu Peeters and me made together with Stijn a sound world in which different voice actors recite passages from the book. The result is an one hour audio play, sometimes dreamy and abstract, other times raw, direct and critical. Minimal sounds fill the gallery space, galvanizing broken beats lift up the words to a higher platform. As paintings in time the words drift around the ears and minds of the listener. As in cinema the listener travels through an imaginary landscape. With the voice acting of Roberta Petzoldt, Maarten Pieterson, Caroline Ruijgrok, Yvo Sprey and Stijn Verhoeff. The piece was first presented in Gallerie van Gelder in Amsterdam. A fragment was published on the website of De Gids. A revisited version in three episodes was broadcasted on art radio station Ja Ja Ja Nee Nee Nee. You can listen to it down below [text is in dutch].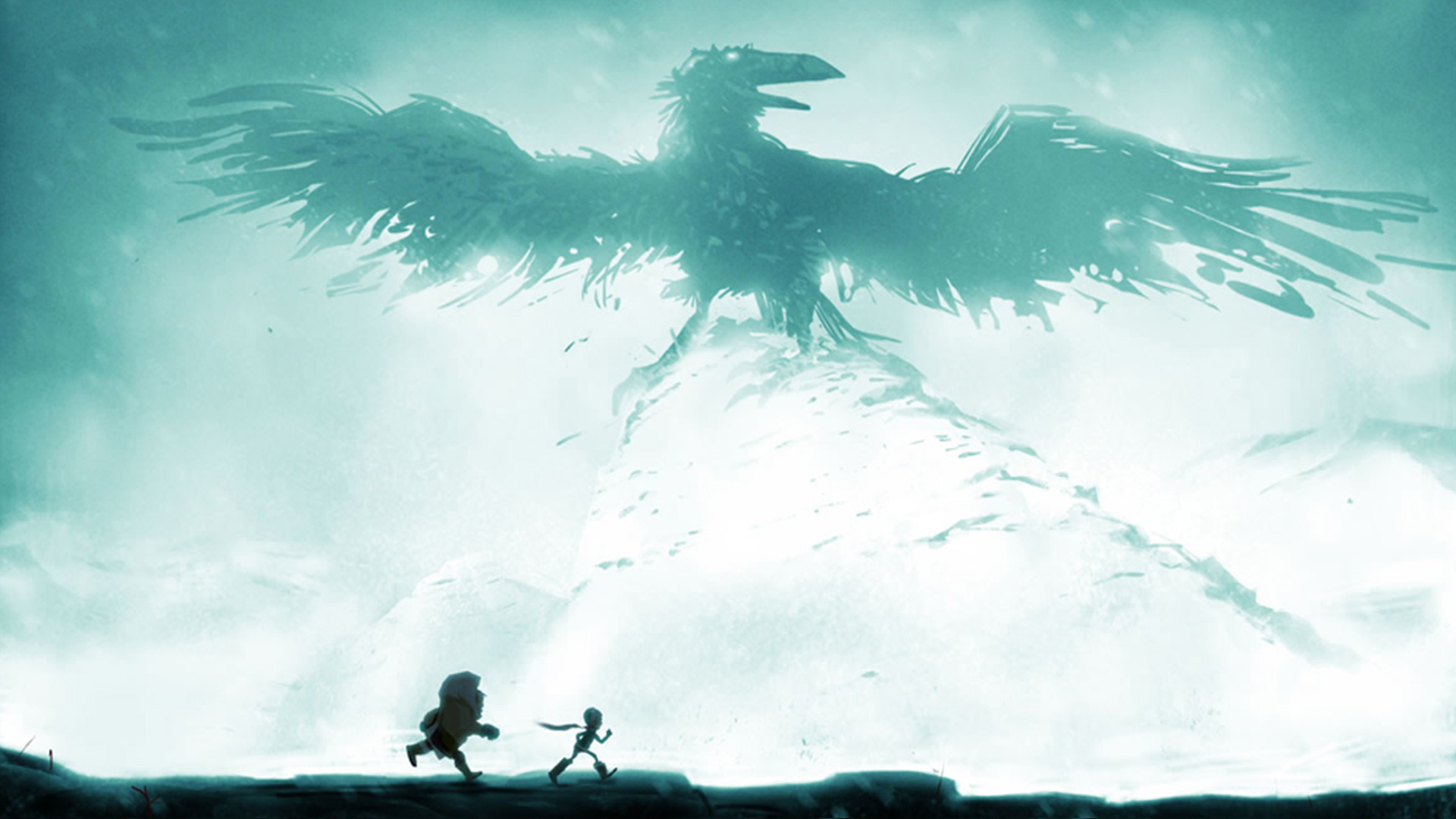 Last Inua
Last Inua is an immersive and emotional platform adventure game developed by the Dutch-Estonian game studio Glowforth. A captivating experience, Last Inua tells the tale of an Inuit family's fight for survival in the harsh elements of the mythical Arctic. The Tonrar, a demonic trickster, has awoken in the arctic. With Last Inua I won an award for Best Music and Sound Design at the Dutch Game Awards 2015. Last Inua is available on Steam and in the Apple Store.
Fast Nacht
Fast Nacht is a collaboration between filmmakers Jasper de Bruin and Bart Voorbergen and fashion designers fORS. The film is an abstract narrative based on the idea of the fashion designers revisiting their hometown in Southern Germany, during the local carnival. They try to reconnect, but are estranged. All garments were designed by fORS and they also oversaw the production design. Two young women arrive in a town at a scenic lake, the day after carnival. On the shore lays the body of a man in a wig, with a shark fin attached to his back. A folkloristic ritual is set in motion, evoking a sacred place. With my score for Fast Nacht I won an award for 'Best Music' at the Eindhoven Film Festival 2015.
gc / nc
gc / nc aka good cop / naughty cop make instant electronic compositions with self-programmed software and self-made controllers. They look for ways to accomplish a physical approach towards electronic music (and in particular realtime synthesis). They use stuff like bicycles, radios, FM transmitters and little solar cell synths in their performances. The music – sometimes described as 'improvised noise ambient' – is influenced by the music and ideas of artists like John Cage, Tim Hecker, John Zorn and Captain Beefheart. Current members are composer / sound artist Sjoerd Leijten and ambient producer / pianist Patrick Bossink. Former member is Australian guitarist Zac Stibbs - he is performing in the video above.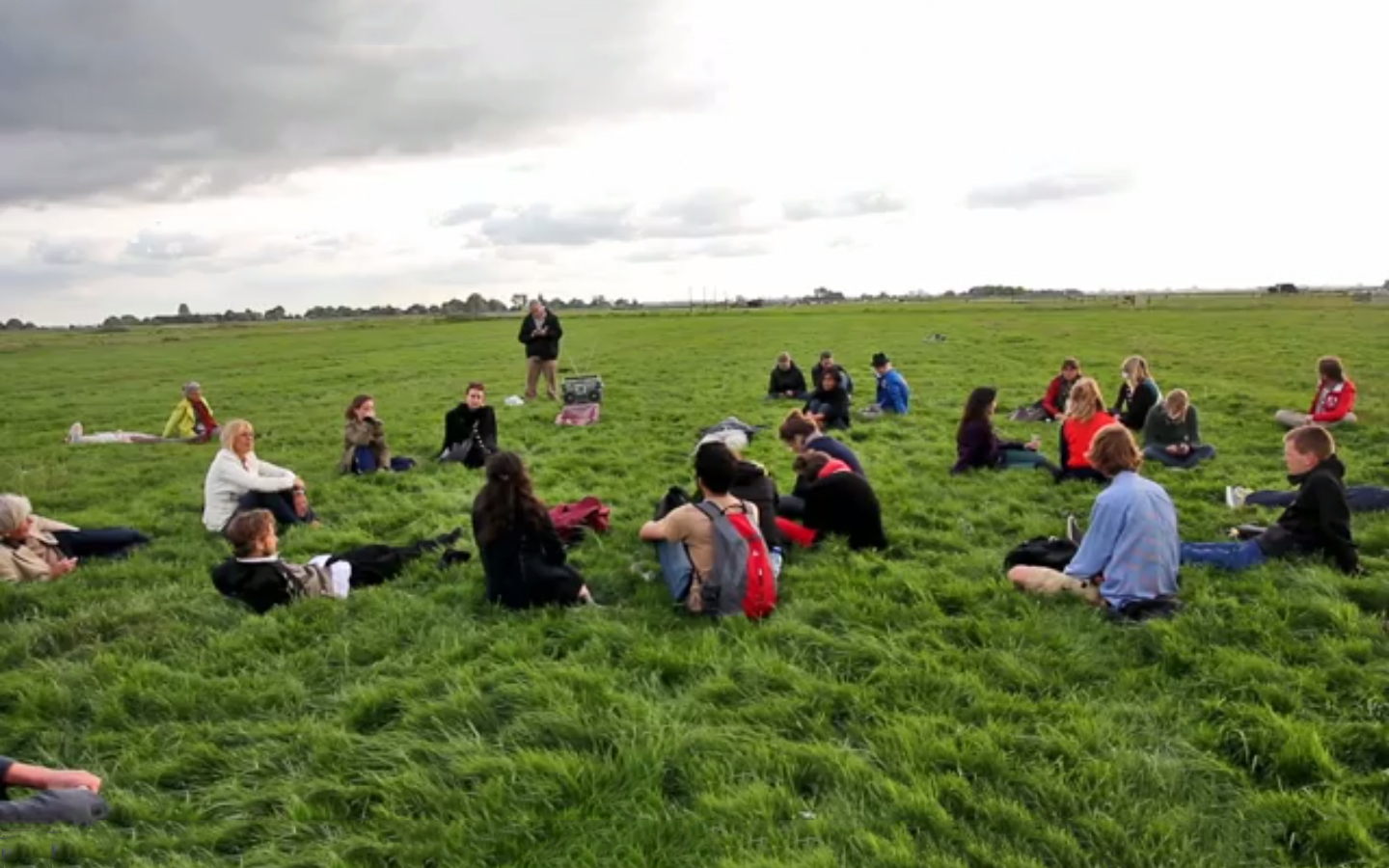 FastForward
Radioplay in collaboration with Jasper de Bruin and Eva Kijlstra. A young writer is torn between her insecurities and her need for recognition. Fastforward was performed during the art bicycle expeditions Tour Plat Pays in the northern area above Amsterdam and Retour in the area near Nijmegen, Onbekwaam en Onbevoegd in Antwerp and at the Mixtream Festival in Heerhugowaard. Fastforward was broadcasted on the Scottish art radio station Radiophrenia.
Impro with tenori_on, toy piano, computer data recorder and voice
A solo sound performance on 16 - 9 - 2016 at Berlin Art Weekend. The setup involved a tenori-on (a japanese led sequencer), a toy piano, voice and a computer data recorder (a cassette recorder for putting digital data on tape. Everything was realtime processed through supercollider. This is an excerpt. Full performance available via bandcamp.

With the same setup I improvised a score for a found 8 mm film during an 8 mm festival at De Ruimte in Amsterdam. You can check the video down below.